EVERGREEN Magazine, 1921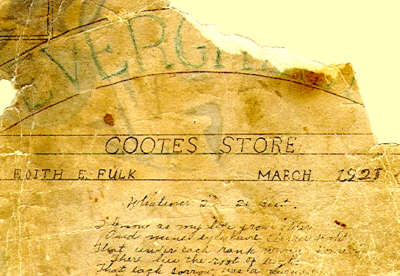 Cover of EVERGREEN magazine
Edith E. Fulk, Editor, 17
Since our school is located in such a beautiful spot it may not be understood why we selected the name "EVERGREEN". There were many names that might have been selected from the location that would have been more appropriate, but we thought that this one would include the purpose of our little magazine as well as the local setting.

It is surrounded by the laurel, cedar, and arbor vitae, which are evergreen. The little articles, which we have written and collected are to keep our memories green with local history and beauty. We ask the judges not to pass us by but to read our efforts with care. We hope it will give you as much pleasure to read this as it did us to write and collect it.
We wish to thank Messrs. A. M. Turner, Benjamin Turner, E. A. Cootes, Mrs. Hyde and others for their help in giving us material for our articles.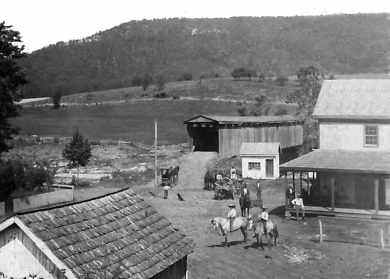 Cootes Store 1895