Cootes Store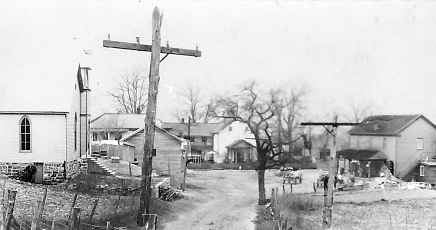 Cootes Store before 1896
The Baptist Church is the building on the left; the Cootes' store on the right and the Cootes' home is the white building in the background.
HISTORY OF COOTES STORE by Mabel E. Turner, 13. The little village of Cootes Store is located at the junction of the roads leading from Broadway to Ft. Seybert W. Va. and from Dayton to the Orkney Spring Grade...

THE STORES by Katie Funkhouser, 15. In 1834 Samuel L. Cootes, who came from Pennsylvania to Harrisonburg then to Turleytown where he stayed a year, moved to this place now known as Cootes Store...

THE COOTES HOME by Susie Dunivan, 13. Perhaps it will be of interest to the readers of our magazine to know something about the oldest home, at least as far as we are able to find out near our schoolhouse...



THE REFORMED CHURCH by Marie Will 13. It is not often that a little village of about fifty inhabitants has two churches. The names of those at Cootes Store are the Baptist and Reformed...


BAPTIST CHURCH by Charlotte E. Neff, 11. The Baptist church is situated in the midst of the little village of Cootes Store. It is a large frame building...


THE FIRST AND THE PRESENT RESIDENTS by Edith E. Fulk, 17. Old documents tell us that the families living in this community from 1760 to 1825 were the Trumbo, Brock, Shoemaker, Yont, Eater, and Bible. Later came the Miller, Alger, Kennon, Cootes, Moore, Wonder, Carrier, Nave, and Brunk families...

MRS. CLARA RIDDLE TURNER by Leafy M. Runion, 15. This is the picture of Mrs. Clara Riddle Turner, one of the oldest inhabitants of our community. Her father, George Riddle, came from England and her mother, Sallie Custer, came from Germany...